Calenders AGAIN .....
As we are nearly the end of the year, lots of things comes to my mind Xmas (FOOD & PRESENTS), NEW YEAR (FOOD), etc etc .... and calenders (too bad, NON FOOD).
I saw this calender by
Animals Lovers League
and thinks that they are BEAUTIFUL ... take a look yourself.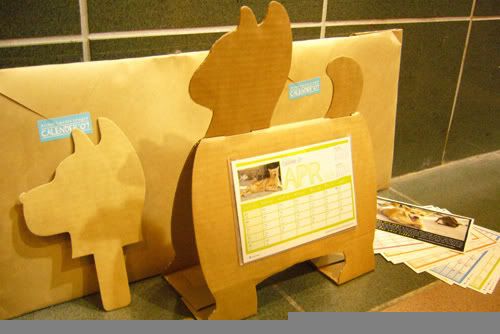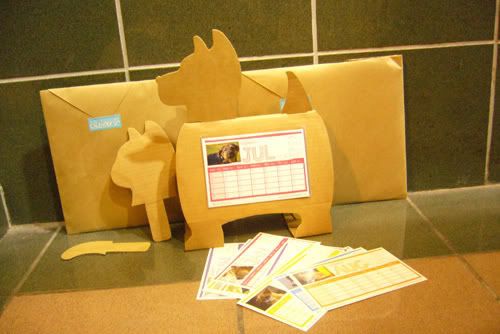 And why do I like this calender?
1) Its made with biodegradeable material to remind us to be environment conscious.
2) The material is made with paper carton material to remind all of us how stray kittens and puppies are often staying in such shelters in the streets, braving the harsh conditions as a stray.
3) Each individual month of the card has a reverse side of a postcard, so we can still use it as a postcard after the month is over.
4) The frame of the calendar can be used as a photoframe after its eventual lifespan in 2008. We do not throw away old and expired calendars anymore, cos there is use for it after 2007.
5) The calendar comes in versatile and interchangable head and tails, in the shape of a dog or a cat
6) The calendar is wrapped up nicely and neatly with thick brown paper and an ALL sticker seal, perfect gift for any birthdays, even more meaningful as a Christmas present at end of the year.
7) The ALL 2007 calendar is selling for a mere S$10 only.
8) The calendar is fun, has an element of surprise and encourages creativity. We can self-construct our own calendar upon unwrapping it, making it all our own creation at the end of the construction.
9) The calendar will stick out like a sore thumb at home or in the office and the beautful part about it is it can immediately declare ourself as an animal lover with its unique shape.
10) We can help sustained a shelter for 500 over stray and abandoned cats and nearly 200 similar plight dogs at Animal Lovers League.
And guess what? I bought a calender and make it MY OWN .... I will show you my artwork in the next post >.<