I am fine :)
Thanks for all the concern, I am fine!
Let me tell you in details what actually happen that day. Girl the CKCS was eating something NOT yummy on MY bed, and when I went over to take over my bed, that not-so-lady lady just suddenly lunged at me and attacked my handsome face. There was some exchange of words between the both of us and Gal Gal the human came and broke up the fight, chased Girl the CKCS away from MY bed, punished the CKCS and put me down on MY bed.
After she was done with punishing the CKCS, she came and kiss me, but she was shocked to see that the WHOLE of my left eyes is bloodied !!! No exageration, it was the whole eye, she thought that the CKCS had punctured my eyes or something.
As it was past midnight then, I did not go to the vet. Gal Gal the human give me first aid immediately.
But luckily I only had a tear on my eye lid and my balls, I mean eye balls, are still intact and not injured. Phew !!!
Oh, Girl the human punished the CKCS soooooooooooooooo HARD that the CKCS did not dare to come near to me or the human for the whole day, when she sees either of us, she practically went into hiding.
Well, I shall be forgiving and forgive her then:)
Oh, this is my handsome eye and face. No visible wounds :)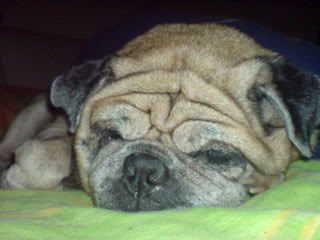 Still Handsome right ?