Doevy and Loevy
errr ... no no no ... Im not in love
YET
... at least not for now .. not that I do not want to fall in love ... but I just have not found that right one yet ..... and who says old man dont yearn for love .... RUBBISH !!!
anyway, Doevy and Loevy are too very special dogs. So special, that some calls them Singapore Special. And yes, they are SPECIAL like me too !!
This is Loevy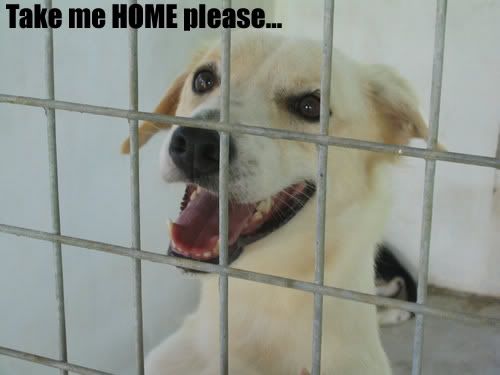 Well, as you can see, Loevy is now staying in a shelter and she is all caged up now .. so poor thing. Although I am also caged up in the house most of the time, but at least my house is bigger and I can run around ...
Loevy is a female (potential gf , hiak hiak hiak ) but she is not interested in a shorty like me .... and like me she loves WALKS !!! WALKS !!! WALKS !!!! and loves human companion.
Loevy is now very super duper lonely staying in the shelter and her greatest wish is that someone can bring her home one day ....
and this is Daevy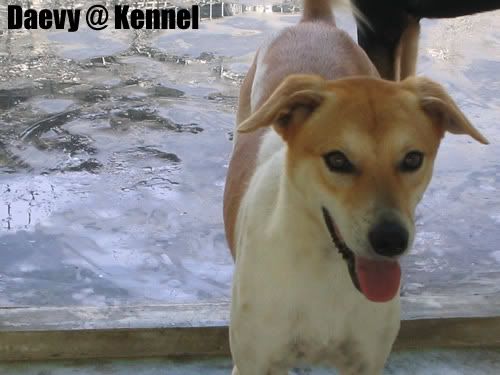 Both Loevy and Daevy are so much alike, they both stay in a shelter, they both love walks and human companion.
How I wish they can go to a good home soon, how I wish there are more Fat Fat around to help animals like us.
If you know of anyone who can bring Loevy and Doevy home, please drop me a mail ok? Else you can call Loevy's and Daevy's agent at 9761 5787 also.
I shall start praying tonight .... PRAY PRAY PRAY PRAY ... pray for all the homeless dog to find a good home like me ....