ITS MY BARKDAY !!!
Happy BARK-DAY to me !!
Happy BARK-DAY to me !!!!
Happy BARK-DAY to meeeeeeeeeeeeeeeeeeeeeeeeeeeeeeee
HAPPY BARK-DAY TO Meeeeeeeeeeeeeeeeeeeeeeeeeeeeeeeeeeeeeeee
Yeah !!!! Here's wishing myself a very happy BARK-DAY!!
Wait ....... errrrrr ....... its not exactly my BARK-DAY. The fact is, I dont know when is my barkday !!!!!
I was pick up from the roadside by FAT FAT when I was still a very small puppy and being a puppy, I know nuts ..... let alone my barkday. So I have adopted my human, Gal Gal's bark-day as my bark-day too !! Sounds complicating ?
Well not exactly, my bark-day = Gal Gal's bark-day = my human's barkday. Still complicating ? Never mind then ......................
Anyway, I had a very very very very very nice Barbecue at a pool side, together with my doggies friends and some of Gal Gal's friend.
Let me show you some of the presents that I got,
A cool RED TIE from my friends waxy & kipling :) The tie is a PERFECT MATCH :)
And I even sleep with my new tie !!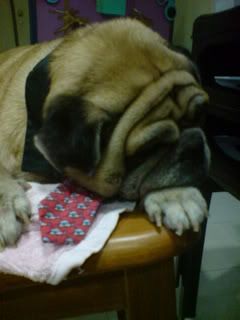 Oh yes ! You g0t to see this !! A new bed from ........ wait , let me see what the parcel says. It says,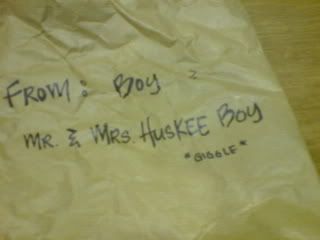 Hmmmmmmmmm ..... I know who is Huskee Boy ..... But "MRS HUSKEE BOY" ?? ?? I am not sure who is "MRS HUSKEE BOY", but there are only a few female Singapore d0g-bloggers in Singapore ....... I wonder whether
Snowball
is "MRS HUSKEE BOY". If it is "CONGRATS TO HUSKEE BOY AND SNOWBALL !!!!!" ..... By the way, why wasn't I invited to your wedding ?
Oh yeah, back to my presents, I got this HUGE YELLOW bed from them !!! and I mean huge, and its COMFORTABLE !!! I LOVE IT !!!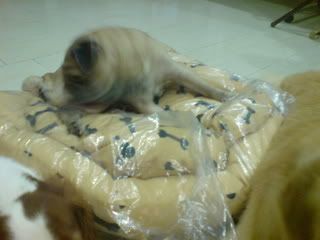 And as you can see !! I am the FIRST ONE ON THE BED !! With the plastic cover still on ! :)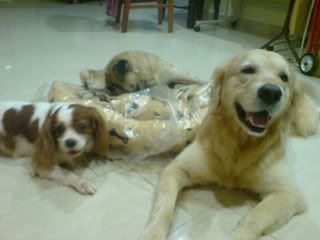 Oh yeah, the ROYALTY sleeps on the bed, while the commoner sleeps on the floor ......
I am going to upload MORE OF MY PRESENTS ... STAY TUNE YEAH?