Recession
Recession is a big word to us doggies, it actually does not make too much sense to us.
I heard the human say Recession = Cut cost. ..... both are big words to me........
But recently, I saw the human do this to us....... this is our ORIGINAL pee pad
Look at the size compare to our food bowl.
Recently, the humans have cut the above pee pad into 8 pieces and this is what you see now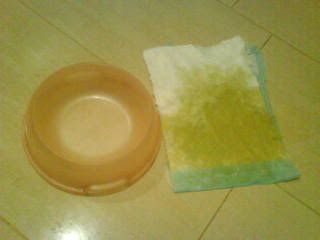 LOOK AT THE SIZE NOW !!! Luckily we are now smart enough to pee ONTO the pee pad and not outside ........
Any idea what is this recession and cost cutting thingy ? Are they edible? good or bad ?
Let me go figure that out in my dreams zzzzzzzzzzzzzzzzz