Cod fish din din !!!
Guess what doggies and hammies !!!
I had steamed cod fish for din din !!!! The cod fish was so yummilicious that I finish EVERY SINGLE PIECE OF IT !!! Even the soupy soup !!!
Oh yeah, as usual, I smell fishy after that :P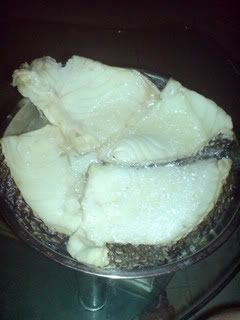 Oh yeah ! I heard my human also FORCED (is this the correct word?)
Ben Ben's
mum to buy some cod fish for Twinkle the Chicken .....
I wonder how was Twinkle's FORCED din din .... hahahahha